Things have been relatively calm around here lately. Waist High came to town, I wooed her with my fish tacos and pico de gallo and she went home without hurting me in any way. Things changed quickly, however, after she returned to her beloved drought infested home in Portland. The very next day I received an email full of curse words and threats demanding I provide her the recipe for my extra special fish tacos and pico de gallo. I know she lives very far away, but she can be really intimidating and I'm just a helpless little girl, so I felt I had no choice but to send her my secret ingredients. She is the only other person on this planet that knows my special secret, so if I ever hear of a Bake Town's Fish Taco stand in Portland, we'll know who to blame.

So (as Chuck likes to say) ANYWAYS, shortly after I sent her my recipe she sent me this photo.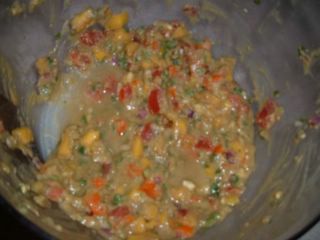 I'm not sure if that's left over pico or if she screwed up my fish tacos so bad that someone threw up. Either way, I felt the picture was pretty disgusting and way too much information.

So, next time you want to make fun of me for bragging about my press pass, just remember this Waist High…I have photographic evidence that you tried to kill someone.