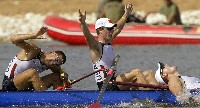 photo taken by Morry Gash / AP



Four people from Kern County went to Athens this year and every one of them brought home a medal. Joey Hansen won the gold as a member of the U.S. men's eight rowing team. Swimmer Larsen Jensen is bringing home a silver medal for the 1500 free style and Rebecca Giddens also earned a silver medal in the women's K1 kayak slalom (no doubt she made good use of the "Killer Kern.") Last but not least, swimmer Gabe Woodward won a bronze medal as a member of the men's 4/100 meter relay team. Interesting how all of the events involved water some how. Anything to escape the heat.

Congratulations to all of our athletes – nice work!